Today We welcome Natalie De Falco to our teaching staff. Natalie teaches the course "Soil, water, and fertilizers".
Natalie has a Ph.D. in Environmental Hydrology and Microbiology.
We wish Natalie enjoyment and fulfillment in teaching our students!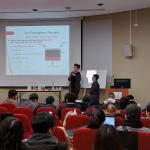 Comments
The best information you provide is really great. https://loginit.org You completely match our expectation and the variety of our information.
Add new comment